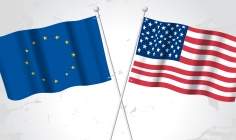 The European Insurance and Occupational Pensions Authority (EIOPA) has welcomed the recent EU-US Covered Agreement on insurance and reinsurance measures.
The deal covers three areas of prudential insurance oversight:
Reinsurance
group supervision and
exchange of information between supervisors
According to the US Department of the Treasury, the agreement will:
1. enhance consumer protection
2. and lead to the elimination of collateral and local presence requirements for EU and US reinsurers operating in these markets.
By eliminating the need to post collateral, this could reportedly save EU reinsurers billions of dollars.
As a result of the agreement, US and EU insurers operating in the other market will only be subject to worldwide prudential insurance group oversight by the supervisors in their home jurisdiction.
The agreement was announced by the European Commission and the US Department of the Treasury on 13 January.
The context to the negotiations began in November 2015 when the US Department of the Treasury and the Office of the US Trade Representative (USTR) announced their intention to begin negotiating a covered agreement with the European Union.
Reaction
Following the deal's successful conclusion, Cristina Mihai, head of prudential regulation and international affairs at Insurance Europe, the European insurance and reinsurance federation, said: "Insurance Europe welcomes the recent conclusion of the bilateral agreement on (re)insurance between the EU and the US, and supports the provisions foreseeing the removal of the discriminatory collateral requirements that EU reinsurers were subject to when placing business in the US."
The American Council of Life Insurers (ACLI), the American Insurance Association (AIA), and the Reinsurance Association of America (RAA) also welcomed the successful conclusion of the agreement between the US and EU.
A statement issued on behalf of the bodies said: "This agreement, which was reached on January 13, seeks to resolve significant insurance and reinsurance regulatory issues for companies doing business in both jurisdictions. We have long supported the covered agreement process and look forward to reviewing the details."