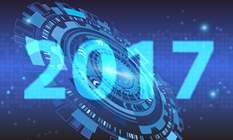 Optimism in the UK insurance industry fell last quarter due to concerns around the economic and trading environment, according to the latest CBI/PwC Financial Services Survey.
The survey found geopolitical and economic factors are not the only worry as insurers experience a sluggish return on investment, driven by rising claim costs and falling profits.
Competition was cited as the biggest challenge to business by both life and general insurers in 2017, highlighting growing concerns about a threat from new entrants and competition from other areas of financial services.
Tech investment
As a result, there has been continued investment in technology throughout the past year in order to acquire new customers and improve efficiency.
The survey also shows insurers continuing to prioritise strategic partnerships for their company's growth strategies.
On Brexit, insurers believe the biggest impact the UK's negotiations with the European Union will have on their business is an increased intensity of interaction with regulators.
Jim Bichard, UK insurance leader at PwC, said: "UK insurers have told us they view competition from both new and established players as a bigger challenge than Brexit in the year ahead.
Although optimism has been dampened as a result of wider geopolitical and economic uncertainty, these results show insurers are dealing with many business issues, of which Brexit is just one."
He added that investment in technology has been an ongoing trend in the industry and, by increasing efficiencies and reaching new customers, insurers are hoping to stave off competition.
Bichard continued: "Availability of talent continues to be on the minds of insurance professionals; partnering with new entrants and start-ups is one way in which we see insurers accessing the diverse skillsets they need to thrive in this ultra-competitive market."
Recruiting talent
Insurers' concerns around talent are underlined by the latest PwC Global CEO Survey, which was published at the World Economic Summit in Davos.
The survey of UK CEOs revealed that access to key skills is perceived as the single biggest business threat facing their organisations.
More than four-in-five (83%) of UK bosses are concerned about how to get hold of key skills, up sharply from 71% last year, and compares to 77% globally.
For all the latest insight, news and data on the global life and health insurance and reinsurance markets, visit www.lifeinsuranceinternational.com