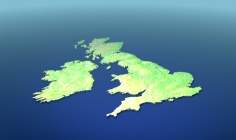 Ahead of today's UK Budget, 80% of British adults recently surveyed by Octopus Investments said they are unaware of the basic facts behind the radical pension changes that will become effective this April.
According to the 2014 UK Budget, in April 2015, from the age of 55, whatever the size of an individual's defined contribution pension, the British government proposes that people will no longer need to buy an annuity and can use their pension pot how they want, subject to their marginal rate of income tax in that year.
In essence, the UK pension reforms effectively remove compulsory annuitisation. The UK government has said these reforms will provide people with more flexibility and the freedom to choose how and they access their pensions during retirement.
To gauge public understanding of the planned reforms almost a year after they were first announced, Octopus polled a nationally representative sample of over 2,000 adults, presenting them with a series of statements about the pensions changes and asking them to identify which were true.
While all statements were, in fact, completely accurate, Octopus Investments said the number of people who identified them to be true was alarmingly low – and this continued to be prevalent among the over 55 age group who were those closest to retirement age.
Simon Rogerson, CEO of Octopus Investments, said: "The upcoming pensions revolution is the biggest shake up in terms of financial planning that Britain has seen for decades. On the back of this, the Chancellor looks set today to hand even more control back to even more people, unlocking a range of options for retirement for a huge number of people."
Rogerson said the reforms are far reaching and have implications on financial planning not just for those approaching retirement but for generations to come.
"However, our findings show that the vast majority of the public are simply not clear on many of the basic changes that underpin these reforms, including the fact that that they can seek guidance on the different choices now open to them," said Rogerson.
He added that it's clear that both the UK government and the financial services industry "still have a lot of work" to do to help people really understand what the changes mean for them and close the knowledge gap that this research has highlighted