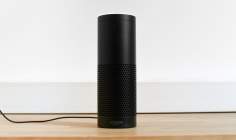 Aviva has become the first UK insurer to launch an Alexa Skill on Amazon's Echo voice-activated device.
The Amazon Echo is a hands-free speaker controlled by a person's voice and Aviva launched the Alexa skill over a 12-week phase.
Alexa is the voice activated service that powers Amazon's Echo, which enables customers to interact with devices in a more intuitive way using voice. It plays music and provides information, such as news, sports scores and weather updates.
Aviva is testing an insurance jargon buster skill on Alexa, giving users instant, voice-controlled access to a glossary of over 300 insurance terms and their definitions. For example:
• Compulsory excess
• Professional indemnity insurance
• Annuity
Kevin McQuillan, digital customer experience director at Aviva, said: "We are the first UK insurer to deliver a skill for Alexa. Our first foray into this world is pretty straightforward but in the future you can expect this to be much more closely linked to your own policies. It is a new way for our customers to interact with us at Aviva."