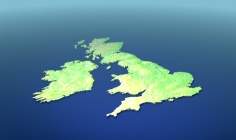 The ABI's director of regulation, Hugh Savill, has said if the UK is to reap the positive benefits of Brexit, it needs trade mechanisms to break down the barriers that exist for financial services.
In an ABI blog, Savill said these trade barriers are erected and "lovingly maintained" by financial services regulators. He explained the kinds of barriers faced by insurers are:
"Restrictions on ownership of overseas insurers, for example in India.
Rules tying capital within a jurisdiction, for example US collateral requirements for reinsurance.
Localising data protection or data security laws – China this time."
In Savill's view, meaningful trade negotiations on these issues will require a fundamental re-think of the worlds's trade liberalisation tools.
He said: "For the time being, we believe that meaningful market access will be achieved through bilateral negotiations where both finance ministries and financial regulators are involved. The economic and financial dialogues that the UK holds with the Indian and Chinese Governments are a good model. They should be extended to other countries with sizeable financial services industries such as Japan and the US.
"And hopefully in due course the EU. Ideally we need to re-negotiate the GATS, [General Agreement on Trade in Services (GATS)].but this may take a little while. Right now the UK has a few other issues to worry about in the trade arena."
Savill's comments come as an analysis by the ABI has revealed around 80 pieces of EU legislation that have a particular impact on the UK insurance sector and long term savings industry.
Of the 80 pieces of EU legislation identified, the ABI found that
52 are transposed into UK Acts of Parliament
15 apply directly
12 are not in force yet (but are expected to be before 2019)
46 apply across both general insurance (GI) and long term savings (LTS), while 30 apply specifically to GI and 5 specifically to LTS
The legislation ranges from key consumer protections like the European Health Insurance Card and data protection regulations, to EU wide prudential regulations like Solvency II.
Huw Evans, director general of the ABI, said: "While the Prime Minister has promised to enshrine all existing EU law into British law, there remains a much bigger challenge to decide which laws Parliament wants to retain in the longer term,"