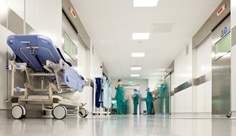 The Association of British Insurers (ABI) has launched a health insurance guide for consumers.
The guide aims to help consumers understand more about what their health insurance options are, why people buy it and how it works.
In particular, it showcases the value of Private Medical Insurance (PMI) and Cash Plans to consumers.
ABI's assistant director, head of health and protection, Raluca Boroianu?Omura, said health insurance is designed to work alongside all the services offered by the NHS, that customers can continue to access.
Boroianu?Omura said the ABI's new guide outlines some of the reasons individuals might choose private healthcare and how insurance can help them to access and fund this.
"Private medical insurers help individuals to gain access to specialised treatment, tests and scans. Insurers also look after the everyday health and wellbeing of individuals through cash plans for treatments like dental care and physiotherapy.
"This is why it is so important to encourage greater awareness of the value of this cover and to avoid any further rises in the Government's Insurance Premium Tax that impacts on the cost of protecting people and their families," said Boroianu?Omura.