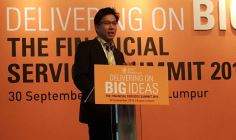 Kenny Thing, general manager of Malaysian online life platform and start up, U for Life, has shared some of the provider's successful strategies since it launched.
Speaking to Life Insurance International, he also shared his insights on the distribution channel outlook for life and health insurance in Southeast Asia.
U for Life is a registered Malaysian corporate agent of Tokio Marine Life Insurance, which was set up in September 2015. Hannover Re is U for Life's principal shareholder.
Its platform allows consumers to instantly purchase life insurance products online, and Thing explains that U for Life is the market leader in terms of online distribution of term insurance. The online life insurance startup also provides a criticial illness option and personal accident cover.
Thing says: "We are the market leader in terms of online distribution of term insurance. To date, we have underwritten close to RM 500m of pure protection business in this ROPO segment. About 98% of our customers will get some form of coverage when they use our platform powered by our UW engine."
He stresses: "We have to demonstrate to our customers that the insurance purchase process can be simple, fast and affordable."
Distribution channel outlook in SE Asia
Thing expects to see the distribution of life and health insurance becoming more digitalized in Malaysia and Southeast Asia over the next 2-3 years.
He says: "Traditional distribution is still going to dominate the marketplace but [certainly] distribution will get more digitalized. My bet will be on bancassurance given it offers a more natural reference point in a customer financial relationship.
"We see should be more solutions provided by InsurTech players and futher collaboration among the various stakeholders will make the next 12 to 24 months extremely exciting."
Asked about the role and outlook for InsurTech in Southeast Asia, Thing says he sees more collaboration than disruption currently.
"Many InsurTech aim to solve adviser problems, or become the new intermediaries between the carriers and the client, or assist the carriers themselves. Some are looking at connected healthcare and telematics and some are looking at AI and Blockchain to create a digital insurance contract."
U for Life's business strategy
Asked about U for Life's strategy and plans over the next year, Thing says the online provider will continue to work closely with its partner life insurance carrier, Tokio Marine Life Insurance.
He says: "Having a strong trusted brand like Tokio Marine Life Insurance helps a lot as we are still relatively a new brand here in Malaysia.
"We will continue to build on our digital distribution and reach out to our target customers. In addition, partnering with other FinTech players is a key part of our strategy."
Thing concludes: "Last but not least, we are keeping a close watch on new technologies that may impact our industry such as AI, Blockchain and the Connected proposition. And of course, [we are monitoring] both traditional and non-traditional players in this segment."