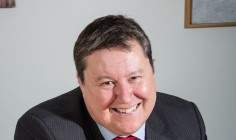 Paul Hately, global head of Swiss Re Protection Partners, explains what life insurers expect from reinsurers as well as arguing the case for parallel business models
The trend we are observing throughout the world is that life insurers expect leading reinsurers to really help them with product development, targeting new segments and innovation.
In particular, life insurers are looking to reinsurers to help then with the middle market and the under-served part of the market.
Around the time of the financial crisis, clients started to expect reinsurers to help them develop new lines of business and new sectors to target.
[Looking ahead to the future,] my main point is that established life insurers need to fundamentally change their business model to appeal to a more modern, tech-savvy and younger generation of consumers.
However, in doing that they threaten their existing business models, which is very agent or IFA driven and very focused at the top end of the market.
Parallel business models
The way to change their business model is to build a parallel business, not necessarily under a different brand, but with a separate management team, separate culture, and so on, which is focused on serving that market.
Reinsurers can help with that by providing understanding about the tools to engage with consumers. We would also offer the infrastructure including the carrier to enable life insurers to get to market quickly.
I see surveys suggesting that life insurers think they are well equipped [to deal with the changing industry landscape]. However, I doubt they are anywhere near equipped for the sea change in their interaction with consumers that will come about.
[Some life insurers] may be digitally equipped to switch from manual underwriting to automated underwriting, but in fact most are not.
However, they are nowhere near equipped enough to engage with consumers on an ongoing basis once they have bought a policy to maintain traction with those customers.
Around the world there are a couple of insurers that are starting to set up these parallel organisations. I think their challenge is to keep them parallel rather than join them up again.
If life insurers develop systems in parallel, it will cost them a lot of money. There is no doubt about that. That is why we have developed the infrastructure in Europe that will allow these parallel organisations to be set up at a fraction of the cost, since the costs are shared between the users of that infrastruc¬ture