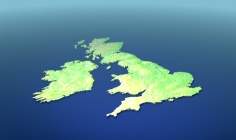 Ahead of the UK's Protection Review conference in London on 14 July 2016, LII editor Ronan McCaughey and Protection Review chief executive Kevin Carr review the key takeaways from this year's conference.
Shifting trends in distribution, underwriting, technology and regulation present golden opportunities for the UK protection insurance industry. This was the key theme at the 2015 Protection Review conference in London.
Following a long period of stagnant sales in the UK protection market, Pacific Life Re CEO Dave Howell noted that banking inbound sales of life insurance have dropped, at a time when regulation, such as the Mortgage Market Review (MMR) is creating "an advice gap."
In spite of this challenging landscape, Howell said auto-enrolment offers a major opportunity to provide easy access to protection cover.
He said: "If we squander this opportunity, we should kick ourselves."
Engaging consumers with protection insurance products is arguably the prime challenge life and health insurers in the UK, like the rest of the world face.
Tom Baigrie, CEO of UK protection broker, LifeSearch, told the audience that individual advocacy is the best way to get more people to think about protection.
Meanwhile, Phil Jeynes, head of sales and marketing at UK-based protection technology business, UnderwriteMe, encouraged attendees to be brave in the protection market because a "better journey can really invigorate" intermediaries.
Jeynes said: "We need to stop [treating] consumers like aliens. We are all consumers." He added: "We want insurers focused on product differentiation and innovation."
Overall, Paul Casey, head of marketing and communications at Hannover Re (UK) Life branch, commented that insurance is trusted less than banking and therefore the two big challenges faced by the industry are creating loyalty and trust.
He told attendees: "If you build in regular touch points, such as gym membership, you build value and moments of truth. If you deliver regular value in the form of rewards, this builds trust and adds value."
He added that the world is changing, so there needs to be protection products to reflect that.
Protection Review chief executive Kevin Carr's takeaways from the 2015 Protection Review conference
This year's theme was 'growing the market', with sessions focussing on improving the customer experience, new distribution models and the opportunity presented by engaging employers.
Double commission for advised sales?
Arguably the most controversial point of the day was made by Michael Ward, founder of PayingTooMuch.com and previously the owner of Direct Life & Pension Services.
During a panel debate about new types of direct to customer distribution models, he commented that the protection market could not grow unless commission is increased, arguing there is currently no financial incentive to provide advice, as the seller receives the same commission on protection whether the sale has been advised on or not – despite advice taking ten times longer.
Ward said: "We need more regulation because current regulation is not regulating the things that matter. We've got too many lead generators saying things that aren't true to customers. If we paid agents twice the commission they get for an advised sale and leave non-advised sales' commission where it is, you'd get more adviser business and they would go out and sell it.
"I think we need a better regulator and we need one that changes the emphasis. My great idea for a regulator would be one that cares about protection sales rising rather than making sure they're just compliant."
To highlight a similar point, Ward commented that of his comparison site businesses, that travel insurance was selling twenty-times as much compared with life insurance, and that travel insurance is currently five times as profitable compared to life cover.
Commission has of course become a bit of a dirty word. In a post-RDR world, remembering that protection is (rightly) separated from the RDR, it implies a mis-selling scandal or at least a dodgy salesperson.
But does Michael have a point? Is it right that non-advised sales earn the same amount when there is no advice and no responsibility for advice?
Making it personal?
An overriding theme of the day was that as an industry, we need to make the whole consumer journey more personal, including the products.
People are getting more and more used to services that are tailored specifically to them, and this will only continue to increase. However, insurers historically tend to have one product that is expected to fit a potential audience of 20-30m people.
It was debated that the personalisation of protection should begin with the products sold. Currently, protection products are largely generic, whilst designed to protect people with varying sets of circumstances.
Insurers hold a lot of data about their customers, so could it be possible in the future for insurers to look at someone's salary, mortgage, debts and family situation and based upon all that information say, here's a product created just for you?
There may well be a tipping point when big data (whatever that really is), wearable technology, online banking and insurance all meet up in a cloud based e-world where different benefits are put together, priced and sent as a 'buy now' pre-underwritten option straight to your phone, tailored specifically for you and your family – because they already know what they need to know.
Can technology create a better customer journey?
Liss Systems' sales and marketing director, Guy Williams, asked during his presentation whether the protection industry is utilising new technologies to deliver a better experience for the customer?
Electronic signatures were cited as one way of making the process of applying for protection much simpler and more convenient for the consumer, whilst being able to shave two weeks and significant costs from the application process. But so far only a handful of UK insurers are using the technology.
More than 70% of insurers in the US market have implemented e-signatures. By using solutions like DocuSign, people can securely sign documents from tablets, smartphones and computers.
Williams said: "Once the early movers prove the benefits of using e-signatures the rest of the market will follow like dominoes. When I first saw them a couple of years ago I thought using them is an absolute no brainer for our industry and they will become a hygiene factor in a few years' time. The Americans have been doing so for seven or eight years."
Likewise, UnderwriteMe talked about its new approach to underwriting. Martin Werth, CEO of UnderwriteMe, said: "Long-term success requires companies to position themselves where the best growth opportunities lie. Direct-to-consumer is the most talked about potential growth story but the future will not simply be an extrapolation of the past. Customer habits have changed and so too must we.
He added: "Consumers expect to buy or access support in the way that best suits. Retailers use the phrase 'omni-channel' for a unified buying experience, regardless of whether the customer engages online, in store, over the phone, or starts on one site, moves to another and then back to the first."
Opportunity knocks
Not wasting the protection opportunity given by the onset of auto-enrolment was the topic explored by Roy McLoughlin, a partner at financial planning firm, Master Adviser,
During his presentation, McLoughlin stated that according to Nest 90% of companies need advice on auto enrolment, which provides a huge opportunity for advisers to talk to them about the protection risks they face.