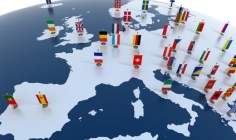 Three-quarters of respondents to a Life Insurance International (LII) reader survey believe the UK life and health insurance industry would be better off if the UK leaves the European Union (Brexit).
The remainder felt the sector would be moderately negatively impacted if a Brexit occurred. The results of the LII survey come as UK voters are set to decide whether Britain should remain in the European Union via a referendum on 23 June 2016.
Legal & General has said a vote to leave would have little direct impact on trading for Legal & General as its customer base is located very largely in the UK, the US and Asia.
The insurer said: "It is however probable that a vote to exit, with a potentially lengthy period of negotiation and an uncertain outcome, would create uncertainty for markets and the broader UK economy in which we operate.
"Given the lack of clarity about potential alternative trading relationships between the UK and other jurisdictions, and the market and economic uncertainty, the economic case for leaving is unproven; we will continue to keep the situation under review as more and better data and analysis emerges. As one of the largest investors in the UK, we will be actively listening to companies we invest in, who will be assessing the potential impact for themselves."
Zurich's response
Commenting on the potential impact of Brexit, a spokesperson for insurer Zurich told LII
"Like any responsible major business, Zurich is continuing to monitor developments closely about this matter in the UK. We have 20,000 employees in the European Union and Brexit following the referendum would naturally have implications not only for our business but the UK economy as a whole, creating complexities that we would need to address for our customers, employees and distribution partner".
Towers Watson's CEO John Haley and Ageas CEO Bart de Smet also shared their views on Brexit's impact for the insurance industry at the recent Economist Insurance Conference in London.
Haley said it would not make much difference, while de Smet said its UK operations would not be impacted.
Impact on London insurance market
Their comments come after Lloyd's chief risk officer, Sean McGovern, recently explained the potential impact on the London insurance market of a Brexit.
London market
Speaking to the Insurance Institute of London, McGovern warned that exiting the EU will create a "level of uncertainty, for Lloyd's, for the London market, as well as the UK and European economies, we have rarely experienced".
McGovern said he is leading a team which is building out contingency plans to deal with a range of possible scenarios – with the objective being to ensure that Lloyd's can continue to provide its market with access to the EU.
McGovern said: "Any change that has competitiveness at the heart of what the EU does must be welcomed. There is progress under the Junker Commission. It is seeking to reposition the EU with various initiatives to free up financial markets through the Capital Markets Union, reduce regulatory burdens that are constraining the ability of financial services to enable business and focus more attention outside the EU through the negotiation of new trade deals."
He noted that the single insurance market, confirmed in the Solvency II regime, means that Lloyd's underwriters are able to write insurance and reinsurance from all of the other 27 Member States on a cross-border basis and also locally in those countries in which we have branches.
McGovern added: "We operate under a passport system. Our passport permission to trade is granted by the PRA and allows us to establish branches in other Member States. The PRA also has exclusive responsibility for prudential supervision of Lloyd's within the EU.
"It follows that we are not required to localise any funds in other EU jurisdictions to meet liabilities nor do we have to make local reports to other EU supervisors under EU law.
"The EU Single Market therefore facilitates the efficient deployment of our capital and explicitly authorises the use of letters of credit and bank guarantees as eligible regulatory capital."
McGovern concluded that a vote to leave will create "very real risks and uncertainties" that must be prepared for. "It is also, on balance, hard to see that any relationship the UK might have other than membership of a reformed EU offers the London insurance market something that is better than we have today," commented McGovern.