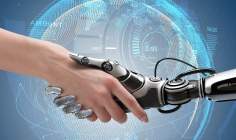 Demand for robo-advice in financial services is increasing and 40% of Britain's wealthiest households like the idea compared to a national average of just 18%, according to a new report.
The Spring Census report from consumer website, Boring Money, explains that the robo-advice concept is more appealing to 35-44 year olds, compared to the 25-34 year olds "who most commentators would have us believe are salivating at the chops with the prospect of managing their money this way".
Evidence that demand for robo-advice is increasing is highly relevant for protection insurers as research by Life Insurance International (LII) has revealed robo-advisers – online wealth management services that provide automated algorithm-based advice without the use of human financial planners – could offer life insurance products within the next 5 to 10 years.
Royal London focus
Royal London's head of protection Debbie Kennedy recently said robo-advice is an area the UK mutual life and pensions company is looking at since it has the potential to open up protection to the mass market.
Kennedy said: "As protection business is already sold through non-advised and tele-sales channels there is knowledge and experience available that the industry can learn from. There are two ways this could potentially go, robo-advice could become a channel in its own right or could even open up a new route into existing channels.
"Either way if more people get access to advice and see the valuable benefits protection products provide that's got to be a good thing."
Scott Kallenbach, research director at US-headquartered insurance association, LIMRA, told LII earlier this year that sales professionals with a focus on life insurance can leverage robo-advice platforms to strengthen their investment management capabilities.
Kallenbach said: "They may not have the time, or the expertise, to offer investment management. A robo platform can help fill that need."
Over the next 5-10 years may see robo-advisers taking a more holistic view of client needs, said Kallenbach.
Life insurance application
He commented: "They'll be able to offer more sophisticated investment options . . .and I would not be surprised if they also have life insurance and related products.
"I can see carriers creating products specific for this platform – as a way to gain access to another distribution channel."
Ian McKenna, director of the Finance & Technology Research Centre, and a member of LII's editorial advisory panel, has said any protection insurance organisation that is not looking at automated advice and systems runs the risk of losing "serious market share".
Directional shift
Speaking to LII in January this year, McKenna said: "I am certainly seeing things moving in the direction of [robo-advice and automated systems].
He added that although it used to take 5 years to develop a technology project, now the incubation period last approximately 18 months because such is the speed of technological innovation.
Holly Mackay, author of Boring Money's Spring Census report, commented: "Once Robo Advice becomes a) really robo instead of today's smoke and mirrors concealing what are mostly tech-light businesses and b) actually provides some sort of advice, then digital advancements will be the only way to help the 21 million adults in the UK with savings and/or investments who do not have a financial adviser".
She added: "Robo advice, so often trumpeted as the solution for millennials, is actually far more likely to displace the red braces wealth management brigade and find its way into affluent, older households."
Boring Money's Spring Census brings together data from YouGov, financial firms and third-party consumer businesses. The statistics quoted are from a YouGov survey of 2,042 UK adults conducted in March 2016.