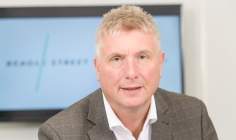 Online life insurer Beagle Street has emerged as one the true innovators in the UK life insurance market in recent times. By using technology to build efficiency, delivering a personalised approach to customer service and marketing itself in an edgy way, Beagle Street is challenging the traditional way of buying life insurance. Matthew Gledhill, managing director of Beagle Street, tells Ronan McCaughey how the provider is shaking up the market
Life Insurance International (LII): What progress has Beagle Street made over the last year and what's the business plan for the next 12 months?
Matthew Gledhill (MG): In October last year we launched an above the line advertis¬ing and marketing campaign which involved some edgy PR involving IFAs and dinosaurs.
Sales for Beagle Street have gone really well this year. Customers have more than doubled over the past 12 months and we have learnt and continue to learn a lot from our advertising, PR and social media activity.
I think the best thing we have done is when we are very positive about our offering. For example, telling the story of how we offer cheaper life insurance by releasing hundreds of origami dogs made from £10 notes across the country, or turning our life insurance policies into art so people never lose them.
In terms of things we could have done better, sometimes we were a bit challenging for the sake of being challenging.
We are going to launch a new advertising campaign that will come out in the next 3-6 months.
We judge ourselves on customers' reviews. Our biggest focus is customer service and we have refined various elements of our service by listening to what our customers are saying. As an online company we are continu¬ously developing and improving our service and it's working – we have a 5 star rating on Trust Pilot, or 9.6 out of ten to be more precise.
LII: What is Beagle Street's current market share in the UK online life market and how do you intend to grow the brand?
MG: In terms of market share, Beagle Street currently has about 15% of the online life market in the UK.
We now want to get to the next level and be a big player in the overall market. How¬ever, it is going to take us three to four years to be a big player.
As for the Beagle Street brand, we are working on another advertising campaign that will be broadcast in the next 3-6 months.
As an online life insurer, you learn all the time and have the ability to change your cus¬tomer journey, so we are trying to approach the market in a positive way.
LII: How quickly do you expect online distribution to grow the life insurance market and what future role do you expect IFAs to have in the protection insurance market?
MG: I think there is a natural inertia to all products moving online. We can even see aspects of the health service moving online. It is a confidence thing and I believe there will be a trigger point when a certain pro¬portion of customer, say 20-30%, buy online and it will snowball from there.
IFAs still have a big role to play in the [UK protection insurance market] but, this will be more dealing with complicated protection products.
Customers do not necessarily need advice and the market is only going to expand if everyday customers start to buy insurance. They are not going to buy it from the IFA model, but will instead buy it from an easy online process.
LII: Is Beagle Street seeking to expand into the European life insurance market?
MG: We wouldn't say no, but not at the moment. We have got sister companies in France and the Netherlands, but they are not life insurance companies. They are aggregators.
We have also considered moving into pensions and investments and savings, but the focus now is on cracking the protection insurance market and get our proposition out to the bandwidth.
Nutmeg is the type of model I would look at because Nutmeg is the equivalent to Beagle Street in the savings and investment space.
LII:Beagle Street has called for a life insurance day in the UK. What needs to be done to make this happen?
MG: I am told in the US there is a life insur¬ance day and I think it quite big out there. It is the sort of thing we need to do, as it would get bigger every year.
There are a lot of people who do not have life insurance cover and a life insurance day would be a fantastic opportunity to reach out to them.
I'd rather sell life insurance to 20,000 single mothers than rich people because they are the ones that really need it and if they die, what's going to happen to the kids?
Single mothers haven't got the money to do the whole belt and braces thing, but they need something.
We haven't talked to anyone yet in the industry about a life insurance day, but that is the next step to get others involved with it.
Effectively, we have got a declining market, so there has to be some way of promoting it.
The problem we have had in the past is that life insurance marketing messages have been very negative. Buying life insurance is an act of love, not an act of fear, and I think there is an interesting angle there.
In my view, the life insurance industry could learn a lot from charity marketing because basically it involves asking people to spend money on something they may never get any benefit from.