LISS Systems is EXL's leading life platforms technology provider for the life and pensions industry. It combines EXL's deep domain experience in the life industry with proven expertise in the design and delivery of core system solutions.
Put simply, EXL and LISS Systems are experts in automated new business, underwriting, and administration systems, offering a variety of services and data analytics to help clients embrace digital transformation.
LISS Systems was acquired by EXL in 2016 for its European presence, digital technology and strategic alignment with the North American insurance clients. Headquartered in New York, EXL (Nasdaq: EXLS) is an operations management company with a rapidly growing insurance based analytics business that represents 20% of company revenue.
Core platform
The LISS EXL core platform provides clients with a powerful data analytics tool capable of accessing both data held within the platform, and client systems to create detailed insights across the entire new business, underwriting, and administration processes.
Armed with this information, the platform enables clients to analyse the data and reconfigure a journey or process to drive efficiencies through a user-friendly design tool. The design tool allows for simple improvements such as amending an underwriting journey, adding additional branded instances for alternative distribution opportunities or launching new products and propositions.
The modular design enables clients to choose from a complete end-to-end online solution, including automated workflow and document management, independent expert underwriting and automated underwriting workbench, and a full policy administration system. This allows clients to rapidly launch new products, broaden distribution networks and manage the full policy lifecycle for IFA or D2C distribution.
LISS EXL is based in London and serves clients throughout Europe. Following the acquisition by EXL in 2016, there has also been rapid deployment of the platform in the US. This is due to the ease of adaptation to specific territorial requirements, multi-currency and multi-lingual functionality, and services for both term and unit-linked products across open and closed books.
The platform currently supports individual protection, group protection, group pensions and investment business within Europe.
Innovation
LISS EXL aims to be at the forefront of innovation, as seen by its early support of paper-free solutions using embedded e signatures.
With the growing business imperative to understand and analyse data, LISS EXL captures every data entry across the platform at a keystroke level, displays complex data relationships through a simple digital visualisation tool, and can provide analytical capabilities through over 2,000 data scientists.
Through our partnership programme with domain experts, LISS EXL offers additional services in the field of underwriting, from rule set design to data-based predictive underwriting.
EXL
EXL is a leading operations management and analytics company that designs and enables agile, customer-centric operating models to help clients improve their revenue growth and profitability. With more than 26,000 professionals working across Europe, Asia (primarily India and Philippines), South America, Australia and South Africa, EXL has developed a strong international presence in the insurance market and a reputation for innovation.
EXL strives to serve as a true strategic digital transformation partner for its clients in areas that include robotics and automation, analytics and platforms. A clear leader in insurance solutions and analytics, EXL supports life and annuity insurers by providing a host of comprehensive operations management, technology, and consulting services.
The company has gained recognition for its insurance expertise and services. EXL has received the 2017 Excellence in Education Award from the Life Office Management Association, placement as a Leader and Star Performer in the Everest Group PEAK Matrix for P&C Insurance BPO, and recognition as a Leader in Nelsonhall's 2016 NEAT Report for Life, Annuities & Pensions BPS.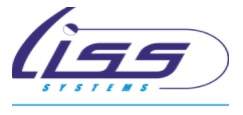 Guy Williams, director at Liss Systems The people of the United Kingdom have spoken, and voted for Brexit, the people...
LISS Systems Ltd
30th Floor
40 Bank Street
Canary Wharf
London
E14 5NR
United Kingdom
+44 020 3102 7905
+44 020 3102 9511