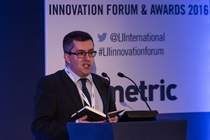 Wearable technology – in the shape of fitness bands and smart watches – has been heralded as a potential saviour for the life insurance industry ever since the technology hit the shelves over the last 2 years.
There has been plenty of hype around wearables and a Cisco Virtual Network Index forecast has predicted that the number of connected wearable devices worldwide is expected to increase from 109m in 2014 to 578m in 2019.
It's true they aare rapidly becoming an integral part of people's lives. For example, smartwatches can monitor and store fitness statistics, check vital signs and remind users to take medication.
Life and health insurers recognise the opportunity too presented by wearables to measure consumers' risk metrics and position themselves as wellness companies, rather than plain old Insurers.
An InsurTech 2017 forecast survey by Life Insurance International had found that wearables and social media are viewed as the technologies that will be adopted by insurers to create greater client engagement.
US-based life insurer John Hancock already uses wearable technology to help customers prove that they are low-risk individuals.
Meanwhile, the UK, life and health insurer Vitality has recently launched a campaign allowing members to get an Apple Watch Series 2 from £69, and then fund the remaining balance by getting active.
As 2017 dawns, the future for wearable technology and insurance certainly looks bright.
Fashion tech
But over the next 2-3 years, it could so lie beyond clunky fitness bands and smart watches – and into the world of fashion tech – or wearable fashion.
One example of wearable fashion is London-based THEUNSEEN, which has actually launched to market. Founded by self-styled 'alchemist' Lauren Bowker, its innovations include a form of wind reactive ink that changes colour upon contact with the air around us.
Other luxury accessories reportedly include a backpack, scarf, phone case and more, which responded to things like air pressure, body temperature, touch, wind and sunlight.
Imagine a world where fashion brands collaborated with life and health Insurers to measure customers' biometrics.
That would shift wearables from being viewed as fitness trackers for a select segment of the population – and bring them truly into the mainstream.
It's only a matter of time before health insurers start to use data from wearable fashion to price risk and reward customer. The technology is truly a tailor-made tool to make life and health insurance more engaging for consumers.