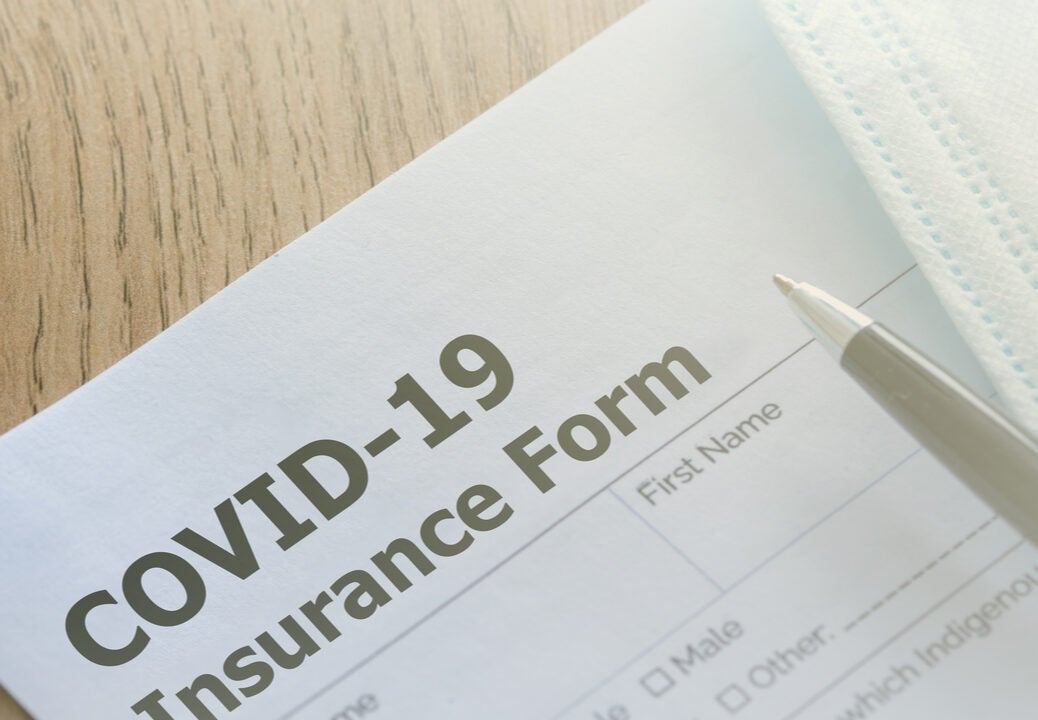 Life Insurance International lists five of the most popular tweets on Covid-19 insurance in Q3 2021 based on data from GlobalData's Influencer Platform.
The top tweets were chosen from influencers as tracked by GlobalData's Influencer Platform, which is based on a scientific process that works on pre-defined parameters. Influencers are selected after a deep analysis of the influencer's relevance, network strength, engagement, and leading discussions on new and emerging trends.
The most popular tweets on Covid-19 insurance in Q3 2021: Top five
 1. David Frum's tweet on the possibility of unvaccinated people having to pay more for insurance in the US
David Frum, senior editor at Atlantic Media , a print and online media company, shared an article on how unvaccinated people in the US should be prepared to pay more for insurance. The vaccination rate in the US is approximately 60% for ages 12 and above, which is not sufficient to reach herd immunity. Many people are avoiding vaccination despite incentives and awareness campaigns held by the government. The article noted that higher insurance payments could drive people to get vaccinated.
Hospitalised Covid-19 patients are having to pay large hospitals bills although the majority of it is currently covered by insurance providers. A short hospital stay in Marietta, Georgia, for example, was billed $17,000, while a 14-day hospitalisation generated a bill of $104,000 for an uninsured person. Insurers earlier waived patient payments including coinsurance and deductibles for the treatment of coronavirus, but are now allowing such policies to lapse. Patients may, therefore, end up paying higher hospital bills out of their own pockets in such cases, highlighted the article which further added that people may get vaccinated if the financial cost of not getting vaccinated is high.
The unvaccinated can expect to pay more in copays and deductibles, as insurers end their previous policy of zero-charge treatment for COVID-19 hospitalizations https://t.co/0oKgRfEjth pic.twitter.com/2p4pC0Aeb1

— David Frum (@davidfrum) August 4, 2021
Username: David Frum
Twitter handle: @davidfrum
Retweets: 714
Likes: 1,716
2. Eric Feigl-Ding's tweet on Covid-19 test provider charging high prices for Covid-19 tests
Eric Feigl-Ding, senior fellow at the Federation of American Scientists, shared an article on GS Labs , a Covid-19 test provider in the US, charging high prices of up to $380 for rapid Covid-19 tests, while the same costs less than $20 at drugstores. The high prices charged by the lab have led several health insurers to refuse to pay the fees and condemn the lab's high pricing during a public health crisis.
GS Labs, however, stated that insurers need to pay the charges as per a policy under the CARES Act, a $2.2 trillion economic stimulus bill passed by the US Congress in 2020. The provision under the act states that insurers are obligated to pay the fees or cash price for out-of-network laboratories with whom they have not negotiated a price. The high prices charged by GS Lab , however, indicate that other laboratories may follow a similar approach unless prices are capped by the government, the article noted.
ATROCIOUS—This Lab Charges $380 for a #COVID19 Test. Insurers say GS Lab is price-gouging, but Trump-era CARES Act of 2020 left an opening for labs to charge any price they wished—up $380 a test—as well as billing both antibody+rapid on same day (no sense)https://t.co/dlMNwxTFuH pic.twitter.com/RSjfyyLpVI

— Eric Feigl-Ding (@DrEricDing) September 26, 2021
Username: Eric Feigl-Ding
Twitter handle: @DrEricDing
Retweets: 340
Likes: 708
3. Laurie Garrett's tweet on comparison between the cost of Covid-19 hospitalisation and the cost of vaccination
Laurie Garrett, a science journalist and author, shared an article on how the cost of Covid-19 hospitalisation is dramatically higher than that of vaccination. The average cost of hospitalisation for a Covid-19 patient insured by Medicare is $21,752, which is approximately 145 times higher than the cost of vaccinating one person.
More than 102,000 Covid-19 patients were hospitalised during June and July this year in the US, including 25,800 in intensive care unit (ICU) beds, according to data from the US Department of Health and Human Services. The US has paid more than $2bn for the treatment of unvaccinated people, spending $20,000 per patient during the two months. The majority of the hospitalised cases were among unvaccinated people indicating that vaccination could have prevented some of the cases, according to the article.
Costs to society for #COVID19 – average 9 dy hospitalization insured by Medicare = $21,752– with a ventilator, average 17 days = $49,441– vaccination = $40So treating the illness costs America "more than 300 times the cost of one person's vaccination."https://t.co/YAVTq6kEqu

— Laurie Garrett (@Laurie_Garrett) September 13, 2021
Username: Laurie Garrett
Twitter handle: @Laurie_Garrett
Retweets: 288
Likes: 481
4. Andre Picard's tweet on Sun Life requiring Covid-19 vaccination for employees who volunteer to return to the office
Andre Picard, a health columnist, shared an article that stated that Canadian life insurance company Sun Life Financial has asked its employees to receive Covid-19 vaccination in order to return to the office, making it the first financial company under federal regulation to mandate vaccinations for its staff. The federal government announced in August that federally regulated employees working in banks and telecommunication companies are required to get vaccinated against Covid-19.
The largest banks and financial institutions in Canada are still mulling over whether vaccination requirements are to be imposed on their employees fearing backlash from employees. The federal government has not issued any guidance on vaccine mandates for provincially or territorially regulated employees. It has also not detailed the consequences for employees who refuse to get vaccinated against Covid, the article added.
The giant insurance company Sun Life is making #COVID19 #vaccination mandatory for its 12,000 Canadian employees to return to the office, by @OHaraClare @jembradshaw https://t.co/ItYLggtFXR via @globebusiness @SunLifeCA #cdnpoli

— André Picard (@picardonhealth) August 18, 2021
Username: André Picard
Twitter handle: @picardonhealth
Retweets: 25
Likes: 111
5. Tom Fowdy's tweet on the increase in national insurance in the UK
Tom Fowdy, columnist at The Southern African Times, a regional bloc digital newspaper, tweeted on how the UK government's plans to increase national insurance is expected to impact the lowest-paid workers. National insurance contributions have been increased by 1.25 percentage points for both employees and employers, which increases the payroll taxes by 2.5 percentage points. Fowdy opined that low-paid workers are having to pay for the mismanagement in handling the Covid-19 outbreak in the UK. The increase in national insurance is expected to reduce the income of low-paid workers by £1.4k ($1.8k) a year.
Fowdy further added that the ultra-neoliberal policies established by the Conservatives since 2010 has placed the UK in economic stagnation and burdened the economically weak people with austerity and tax hikes. He added that these policies have resulted in an increase in the cost of living in country while reducing people's consumption power and impacting the retail industry.
To pay for the cost of Boris' covid-19 mismanagement in Britain, the government have decided to tax the lowest paid workers with a national insurance rise which will reduce the income of most professions by £1.4k a year.

This is a bad decision targeting the wrong people.

— Tom Fowdy (@Tom_Fowdy) September 7, 2021
Username: Tom Fowdy
Twitter handle: @Tom_Fowdy
Retweets: 16
Likes: 76