The COVID-19 pandemic is a leading reason why SMEs are switching insurers in 2020. This is especially true in more niche lines, with businesses realising the importance of holding insurance and seeking out specialist insurers.
GlobalData's 2020 UK SME Insurance Survey found that the top three products for switching due to the pandemic (excluding vehicle-based products) were private medical, cyber, and key man insurance. Cyber in particular is a product that has grown in importance during the pandemic. Staff working from home coupled with a rise in internet and email scams has peaked SMEs' interest in the product. The survey also revealed that 8% of SMEs that did not hold cyber insurance said the likelihood of them purchasing said product had increased significantly since the start of the pandemic.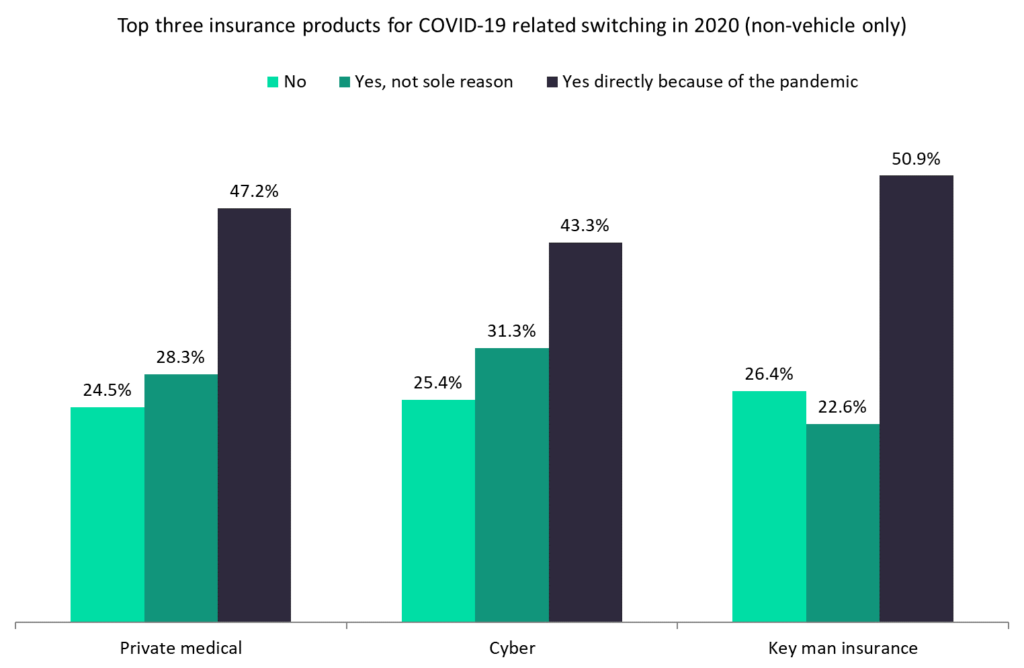 Private medical and key man insurance are also specialist insurance products that have become more relevant because of the pandemic. Key man was the top product for switching directly because of the pandemic, while private medical led the way when considering COVID-19 as both one factor and the sole reason behind switching. Key man insurance protects businesses against losing a crucial employee, such as a CEO, which is particularly relevant at the moment. Meanwhile, private medical switching is likely to have been driven by companies looking into exactly what aspects of the pandemic they are covered for, and switching for greater coverage elsewhere if they believed the policy was lacking.
The pandemic therefore presents opportunities and risks for insurers. It is likely to remain a leading reason for switching, as it will dominate SMEs' planning considerations for the foreseeable future. Insurers that are not competitive on pandemic coverage and that refuse claims will lose customers as a result.