Lifetime pet insurance policies see great variation in price across the four leading comparison sites, even when the provider and terms are the same. The cheapest, most basic policies on each site vary by over £20 per year, forcing consumers to shop around different comparison sites to avoid being hit by constant premium hikes.
GlobalData's shoparound exercises, conducted across the four leading aggregators (Compare the Market, Confused.com, Moneysupermarket.com, and GoCompare) in each personal line (motor, home, travel, and pet) highlighted disparities in pricing in each product. The differentiation means consumers are justified in searching through multiple aggregators to find the best deal, an activity which itself limits customer 'ownership' by any one site. Consequently, however, this drives confusion and limits the convenience afforded by the comparison services.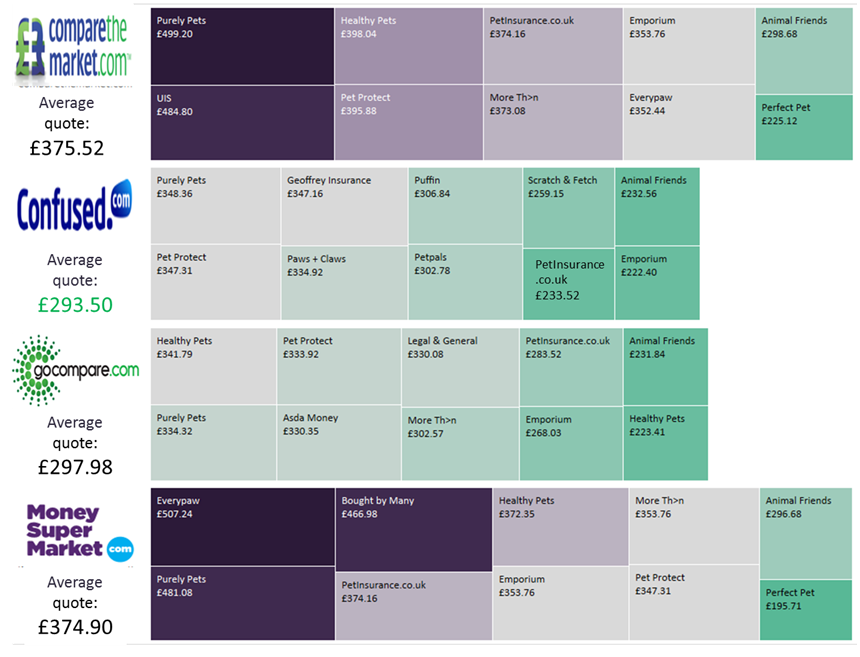 The above graphic displays the 10 cheapest quotes for lifetime pet insurance policies on each aggregator (as of February 2019) for the same profile of consumer. A more detailed analysis, alongside similar coverage of motor, travel, home, and accident-only pet insurance, can be found in GlobalData's UK Insurance Aggregators 2019 report.
Our study showed that pet insurance consumers looking for the widest range of cheaper options should choose Confused.com, on which the 10 least expensive prices on display averaged £293.50. This was not far off £100 cheaper than Moneysupermarket.com and Compare the Market. Confused.com's most expensive policy was £348.36, considerably cheaper than the equivalent from Moneysupermarket.com and Compare the Market.
GlobalData found that even the most basic offering from the same provider varied significantly in price. Emporium was one of four providers to appear in the top 10 with all four aggregators, but even its most basic policy ranged from £222.40 (Confused.com) to £353.76 (Compare the Market, Moneysupermarket.com).
The ongoing Competition and Markets Authority investigation into comparison sites and their relationships with insurers found that market leader Compare the Market still had clauses with insurers to ensure the lowest prices in home insurance. The continued emergence of stories like this will not help consumer trust in comparison sites, especially when startups such as Brolly and Honcho are attempting to offer a more consumer-friendly service.