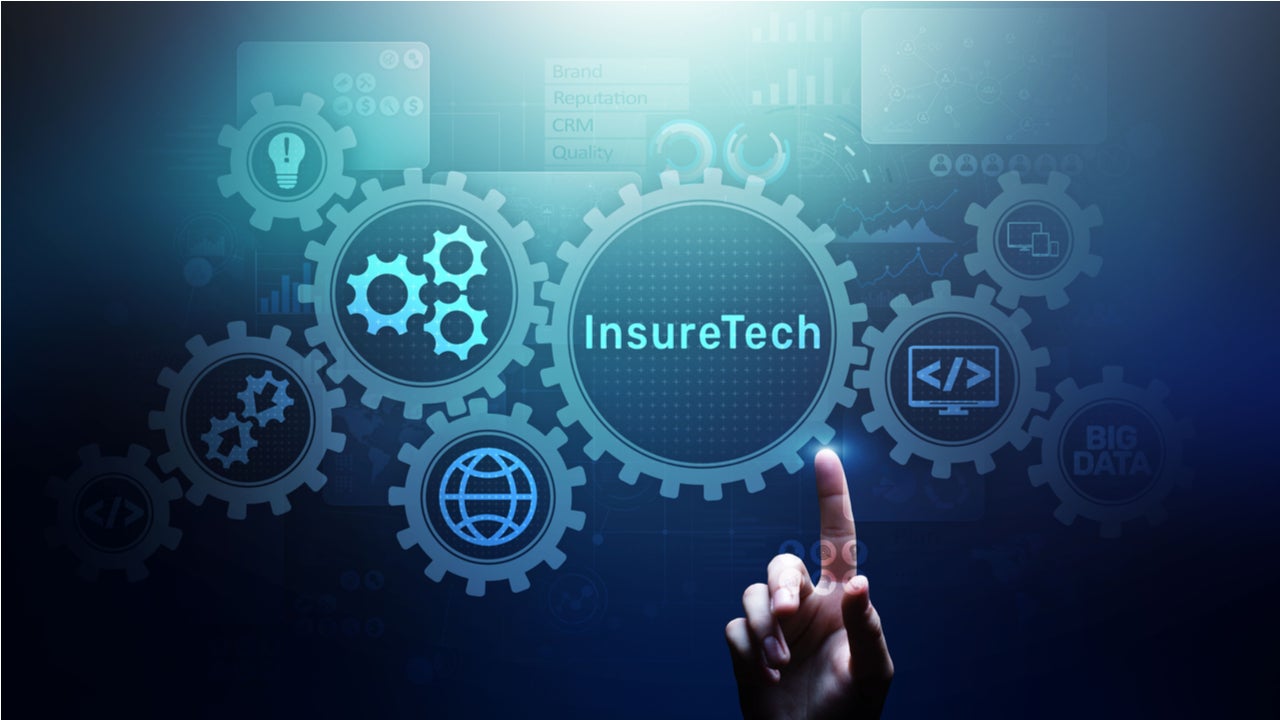 Life Insurance International lists the top five terms tweeted on insurtech in February 2021, based on data from GlobalData's Influencer Platform. The top tweeted terms are the trending industry discussions happening on Twitter by key individuals (influencers) as tracked by the platform.
1. Fintech – 481 mentions
The rising threat to Britain's dominance in fintech, the application of immersive technology in improving risk control in insurance, and the role of open banking in financial services were the most discussed topics in February 2021. Florian Graillot, a venture capital investor, shared an article on how Britain's dominance in fintech is weakening post Brexit. The fintech industry in the UK grew after the financial crisis in 2008, and London evolved as a financial centre over the years. Britain received the highest fintech investment in Europe in 2020.
Brexit, however, has damaged Britain's chances of accelerating this growth further. The Treasury has, therefore, launched the Fintech Strategic Review aimed at addressing the challenges faced by the industry due to Brexit. The review will promote better co-ordination between the British agencies to allow consistent and resilient financial regulations. It may also suggest relaxation of post-Brexit rules to allow domestic pension schemes and insurers to invest in late-stage start-ups to support their growth.
Mike de Waal, CEO of Global IQX, an artificial intelligence (AI)-driven group insurance platform, discussed fintech in terms of immersive technologies being used by insurers to expand their risk control services. He shared an article detailing how improved immersive technologies such as computer vision, remote collaboration, digital aids and automated documentation are being deployed in four areas including site assessment, client services, training and wellness. These technologies are expected to ease some basic issues related to hiring, travel, knowledge gaps, documentation and operating for insurance companies, the article highlighted.
Fintech was also discussed in terms of open banking being embraced by the insurance sector to improve customer experience and create more revenue, according to an article shared by Tolga Tavlas, a fintech influencer and author. The utility of open banking has increased significantly during the pandemic as it provides agility to financial services. The surge in online transactions is making insurance companies to utilise open banking to optimise their services. However, its trustworthiness has always been an issue because it allows third-party providers (TPPs) to access bank accounts.
Great perspective on how the UK is under threat to stay the leading #FinTech place in Europe. #InsurTech #RegTech https://t.co/k3E9X5M6pI

— Florian Graillot (@FGraillot) February 25, 2021
2. Artificial Intelligence – 246 mentions
The growing influence of AI on the insurance sector, the advantages of AI-based insurance disruptor Lemonade in the insurance business, and the role of blockchain in making AI safer for financial services were the popular topics discussed during the month. Theodora Lau, the founder of Unconventional Ventures, an investment firm, believes that insurance companies must invest in AI to stay competitive and relevant in the future.
Lau shared a graphical representation of technological disruption in the insurance industry that depicts that the insurance companies investing in AI technology can boost their revenue by 17% by 2022, according to Accenture. The graph also showed that use of AI and chatbots in the management of motor, property, health and life claims can save $1.3bn each year by 2023, according to Juniper Research.
Alex Jimenez, chief strategy officer at Extractable, a consultancy focused on financial services, tweeted on how AI-based insurtech start-up, Lemonade, is disrupting the traditional insurance system. The use of AI technology is providing the company with a competitive edge over other insurance companies by streamlining and improving the process of insurance procurement and use. Lemonade can also counter fraudulent cases better than human insurance representatives.
Meanwhile, Mike de Waal discussed AI with regard to blockchain and how it can improve AI technology and make it safer for financial services. The lack of trust in AI technology is one of the most prevalent issues with reference to the digital transformation of insurance companies. Insurance companies fear data protection with AI technology. Building trust via unchangeable and transparent record is one of the key features of blockchain technology. Blockchain can also combat the over aggressiveness of AI technology and make the AI systems safer and better.
A2: For starters, financial institutions and #insurance companies must invest in #AI and #DataAnalytics. These should be table stakes for any orgs to remain competitive and relevant in the future. #BIZTALKS #Industry40 #ATTInfluencer #FinServ #FinTech https://t.co/4KtWnJM9TA https://t.co/NxcLCQCHae pic.twitter.com/eRITqTp4mI

— Theodora (Theo) Lau – 劉䂀曼 (@psb_dc) February 23, 2021
3. Start-ups – 155 mentions
Top insurtech start-ups in the UK in 2021 and the ecosystems of Italian insurtech start-ups were the most popularly discussed topics in February.
Spiros Margaris, a venture capitalist, tweeted an article on the top insurtech start-ups in the UK that are successful by incorporating different approaches. The article lists several start-ups including Zego, an auto insurance provider, DeadHappy, an insurtech company, and Laka, a bicycle insurance provider. These companies are moving forward with diverse approaches, including innovation, management and societal impact strategies to create a niche for themselves in the insurance sector.
Alex Jimenez discussed the term with respect to the Italian insurtech ecosystem, which accounted for just 1% of the $7.2bn investment made in the global insurtech market in 2020. He shared an article detailing how Italian Insurtech Association created the Startup Chapter to provide a dedicated space with advanced technologies to the insurance start-ups and support their growth. The growth of Italian start-ups will make their insurance ecosystem competitive with the European insurance ecosystem, the article added.
Congratulations @canopyrent & all great startups

Top #InsurTech Companies in the #UK (2021)https://t.co/VHwkzvJ4p4 @FinanceDailyMag #fintech @ZEGO @deadhappy @instandaF2X @LakaHQ @gosuperscript @Quantemplate @bymiles @wearesosure @artificiallabs @hometree_uk @flockcover pic.twitter.com/e8kpXvYdx3

— Spiros Margaris (@SpirosMargaris) February 1, 2021
4. IoT – 83 mentions
The integration of internet of things (IoT) connected cars with insurance supply chains, launch of IoT devices to measure driving behaviour of motorists, and the growth opportunities for the insurance sector with IoT were the most discussed topics in February 2021.
Nick Bilodeau, a financial executive, noted that IoT connected vehicle data is rising with more new vehicles coming on the road. Customers are more interested in fixing auto insurance rates based on their real-time driving behaviours, and auto insurance companies are utilising advanced telematics to address these needs. Further, the advent of 5G in the future will advance the potential of connected cars, and the data collected from these cars can revolutionise the insurance spectrum.
Sabine VanderLinden, CEO of the Alchemy Crew, a venture validation company for the insurance sector, discussed the term while sharing an article on how MSIG Insurance, an insurance holding company has launched an innovative insurtech prototype with Advanced Info Service (AIS), a mobile operator, to calculate premium for vehicles. The vehicle is embedded with an IoT prototype that tracks the behaviour of motorists in real-time and sends the data to the MSIG cloud through the AIS network for processing. The data will be used for premium calculation and will instigate better driving discipline in the motorists, the article added.
IoT was also discussed by Matteo Carbone, the founder of IoT Insurance Observatory, an insurance think-tank, on how the influence of networked devices is increasing in the insurance industry. Connected devices such as wearables, smartwatches, biosensors, and mobile-based applications can help health and life insurance companies in understanding the overall health of the customer.
IoT devices outnumbered the global population in 2020, with 20 billion connected devices in a global population of 7.64 billion. The expansion of IoT devices can help in accurate risk analysis and accelerate claims processing with a reduced number of claim frauds for the insurance industry.
Integrating connected cars into #insurance supply chains https://t.co/tnlKSGVHdW v/ @globaliqx by @PC_360#insurtech #fintech #InternetOfThings @SpirosMargaris @MikeQuindazzi @FGraillot @stratorob @efipm @antgrasso @Xbond49 @UrsBolt @Salz_Er @HaroldSinnott @RAlexJimenez pic.twitter.com/hYtwN1ZXJV

— Nick Bilodeau (@FinMKTG) February 23, 2021
5. Digital Transformation – 66 mentions
The reasons behind the slow digital transformation of the insurance industry and the optimisation of the consumer's interest in online insurance were popularly discussed in February 2021. Tim Hughes, CEO of DLA Ignite, a social media company, shared an article on how despite consumer dissatisfaction towards insurance companies due to insufficient digital interactions and website services, the companies are still slow in adopting digital technologies.
Misconceptions about digital processes and resistance from management, employees, and independent agencies, who are more accustomed to the older methodologies are the primary factors for the slower digital transformation of the companies. However, the inclination of consumers towards advanced technologies and improved services are pushing the companies towards digitalisation, the article added.
Rick Huckstep, chairman of The Digital Insurer, a website offering information on digital insurance, discussed the term by sharing a report on the trend of shifting consumers interest towards purchasing insurance online in Asia during the Covid-19 pandemic. In a survey by Swiss Re, more than 70% of consumers in India showed interest in buying their life and health insurances online even though the cash policies were most popular earlier.
Digital adoption was observed to be more prevalent among younger consumers who are showing higher confidence in digital insurance products. Further, the introduction of pay per use insurance is gaining rapid interest among consumers even among those who do not use digital applications frequently.
Despite talk about digital transformation, why is the insurance industry is still moving slowly on digital transformation? (via Passle) https://t.co/suGLRNAJ9Y @DLAIgnite #socialselling #digitalselling #banking #wealthmanagement #wealthtech #fintech #financialadvisors #economy pic.twitter.com/W4wtRjEL1I

— Tim Hughes 提姆·休斯 (@Timothy_Hughes) February 4, 2021