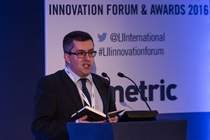 The emergence of digital healthcare providers, such as babylon health in the UK, offer life insurers significant opportunities to better engage consumers, improve risk prevention and attract millennials.
Everything about babylon health's HQ in South Kensington, for example, is uber-cool and accentuates creativity – from blackboards on the walls allowing employees to sketch ideas to – the palm trees amid desks and work stations.
The hip vibe and décor of the InsurTech start-up couldn't be more different than the corporate colours and tone to be found in a typical insurance office.
Life insurance companies increasingly recognise they typically do not really engage with clients between selling a policy and a claim being made. Or at least it is typically not done well.
Collaboration between life insurers and digital healthcare providers could therefore offer life insurers the ongoing customer engagement they urgently need, as well as positioning themselves as wellness companies, rather than life insurers.
Income protection is an obvious area of synergy too for digital healthcare and life insurers as insurers' aim is to help people back to work and collaboration with digital healthcare providers would be good for an insurer, the client and an employer.
Digital healthcare services could also be applied to travel insurance as part of an insurance package.
In a world where there is a shortage of 5m doctors globally, the future of healthcare is virtual GPs.
Digital healthcare innovation could also be 'just what the doctor ordered' for the life insurance market because usage of these health services could actually mean customers have no need to make a health insurance claim in the first place.
The way virtual GPs are making healthcare and seeing a doctor as easy as ordering a taxi on a smartphone, must also be attractive to life insurers eager to attract and engage millennials. Face-to-face interaction, will always be important, but the future is surely digital for life insurance.