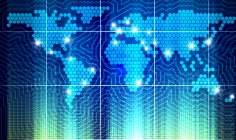 Thomas McCourtie, analyst, general insurance at Verdict Financial, argues that UK insurers must look to partner with new and emerging tech groups in order to avoid falling behind their international competitors, which he says, are innovating at a much faster rate.
Recent years have seen a growing relationship between insurers and technology, but many of the more significant developments are stemming from international markets. Mainland Europe, parts of Africa, and even the US are way ahead of the curve, but the UK remains somewhat under-represented. While embracing technology in the UK insurance industry continues to be a challenge, lack of originality and product development could see UK providers fall behind their competitors from other regions.
The fact that other international markets are introducing more innovations to the insurtech scene means our home-grown providers are in danger of slipping to the back of the queue in terms of the products they're able to offer consumers. In turn, UK insurers' failure to innovate could increase the number of firms they're competing against, and therefore UK insurers must strive to collaborate with insurtech groups.
The UK insurance scene's lack of "technical nous" is evidenced by the release of fintech accelerator
Startupbootcamp's 2017 insurtech cohort.
Of the ten businesses on this list that were announced as frontrunners in the insurtech space, only three originate from the UK:
Insure A Thing – A platform whereby customers pay for insurance in arrears.
Port – A legally compliant, personal information cloud data store for the insurance industry.
TrackActive – A healthcare-focused "telematics" proposition to ensure better outcomes for patients and greater accountability for medical practitioners.
The remaining cohort featured business groups from South Africa (3) and Sweden (2), with Spain and the US both offering one each. UK insurers must respond by engaging more in the insurtech scene and developing more propositions in order to remain competitive.
The UK's affiliation with technology is much broader and more generalized. This was an issue raised at the 2017 Consumer Electronics Show (CES), where it was also noted that there are significantly more French or Dutch startups , for example, than those coming from the UK. Among the reasons suggested for under-representation were the absence of a government initiative to spur tech investment, mainly in cities/areas outside of London, and also a shortfall in funding.
This suggests the UK's government and financial sector can do more to help the country's entrepreneurs. The UK has been slow to the game, and activity in the insurtech space has been staggered in comparison to other markets. The incumbents need the startups in order to facilitate innovation, but on the flipside, UK tech firms require the initial support to get their ideas off the ground.