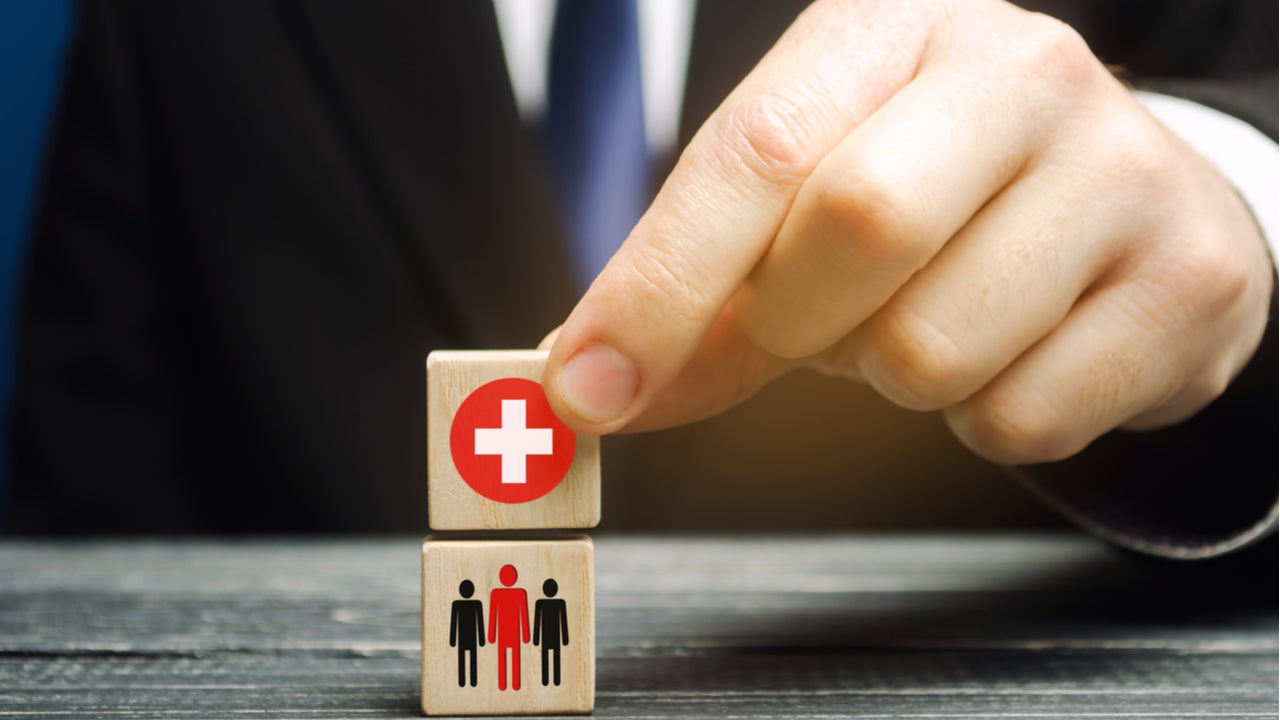 Using research from GlobalData's Influencer platform, Life Insurance International has named ten of the most influential people in relation to Covid-19 and insurance on Twitter during Q1 2021.
Covid-19 biggest influencers in insurance: The top ten in Q1 2021
James Gingerich is the director of sales and business development at Expeflow, a provider of workflow automation solutions to insurance companies and medical examiners for the management of medical and healthcare claims. He specialises in building customer relations and developing new marketing strategies.
Gingerich earlier served as the director of internet of thing (IoT) business development at ATS Automation, a provider of industrial automated manufacturing systems.
Twitter followers: 48,121
Amid COVID-19, Cyber Criminals Push Phishing, #Ransomware Scams. (Insurance Journal) #CyberSecurity #Insurance https://t.co/AMp35WfNYO pic.twitter.com/ziDhXCYtph

— James Gingerich, @Expeflow #WorkEasier #RPA (@jamesvgingerich) February 13, 2021
David Sobo is the chief operating officer at Ultra Education C.I.C, an e-learning company that focuses on providing entrepreneurial education in clubs and schools. He guides organisations to leverage analytics to gain competitive advantage. Sobo has been associated with top brands and computer software companies such as SAS and Microsoft.
Twitter followers: 5,033
SME BI insurance take-up hurt by Covid-19 claims fiasco, survey suggests – Insurance Times https://t.co/Q8fF60hSRb#DataScience #MachineLearning #DeepLearning #Insurance #NLP #Robots #AI #IoT #BigData

— David Sobo (@DS_Analytics) February 15, 2021
Tyson Lester is a financial services expert and the president of Policy Advantage, a health insurance company that aims to maximise the efficiency of insurance coverage plans of individuals, companies, and families. Lester is a health coverage and brand development expert who guides customers on various areas of the insurance gambit including dental, life, and other health plans.
Twitter followers: 89,523
Via @EconomicTimes: "Artificial Intelligence & #MachineLearning helping #insurance companies with #CyberSecurity." https://t.co/VE8khaE992

This is especially important during #COVID19, when lots of people are doing #business online.#AI #ArtificialIntelligence #BigData #Data

— Tyson Lester, ChHC®, REBC®, RHU® (@TysonLester) March 2, 2021
Spiros Margaris is a venture capitalist and payment tech consultant currently serving as founder, advisor and board member of Margaris Ventures, a venture capital and private equity company. Margaris also serves as board member and member of the executive committee of stc pay, a financial services company dealing in digital wallets that are designed to obtain optimum speed and convenience of payments.
Twitter followers: 107,646
What are #insurtechs doing in the face of the #coronavirus #pandemic https://t.co/LQhJHa3fQ5 #fintech #insurance @nigelwalsh @charliehalkett @Visible_Banking @bedfordcj @insurtechforum @SabineVdL @MCins_ @JimMarous @sallyeaves @insurtechtalk @ipfconline1 @MCins_ @JohnNosta pic.twitter.com/Qp0uv09aPB

— Xavier Gomez #VivaTech (@Xbond49) March 25, 2020
Robin Kiera is a personal and virtual speaker for Digitalscouting.de, a consultancy which tracks digital trends in technology, finance and insurance sectors. He specialises in areas such as marketing, management and brand consulting, public relations, and business consulting.
Kiera also serves as the brand ambassador of The Open Voice Network, non-profit industry association that offers open artificial intelligence (AI)-enabled voice assistance.
Twitter followers: 28,466
Here's a List Of #Fintech and #Insurtech Firms Providing Free Technology During The Coronavirus Crisis https://t.co/eDl81473Tt
via @forbes@antgrasso @MikeQuindazzi @Ronald_vanLoon @wef @mvollmer1 @ipfconline1 @Fisher85M #Banking #Disruption #Innovation #COVID19 #Insurance pic.twitter.com/V86NMPLLMD

— 🔹Dr. Robin Kiera🔹 (@stratorob) March 25, 2020
Mike De Waal is the president and founder of Global IQX, an AI-driven insurance platform offering digital solutions such as renewal underwriting. He specialises in areas such as IT innovation, business management and business development.
De Waal previously served as president and founder of ConnectInsure, a multi-insurance company offering marketing, proposal generation, quoting, and enrolment of group insurance plans for consultants, insurance firms, and brokers.
Twitter followers: 9,162
In Wake of Covid-19, #Insurance Sector Rally Fueled by Innovative Tech Accelerators
https://t.co/dvm5XePNhn#insurtech #fintech #marketwatch @ShiCooks @Nicochan33 @MargaretSiegien @jblefevre60 @mvollmer1 @FrRonconi @Stevewal63 @Damien_CABADI @mcins pic.twitter.com/gSNifCdP6z

— Mike de Waal (@globaliqx) February 9, 2021
Florian Semle is the managing director of Digital Clarity, through which he offers management consultancy services. He is an expert in driving digital transformation initiatives of businesses and also in upgrading communications.
Semle has earlier worked as communications lead at Allianz, a venture capital and private equity firm focusing on wealth management and insurance solutions.
Twitter followers: 9,130
5 Ways Insurance companies rose up to the COVID-19 challenge: https://t.co/hcaf0yOZa8 #fintech #insurtech

— florian semle (@floriansemle) March 4, 2021
Marguerite Tortorello is the president of Tortello Communications Company, which provides services such as research and polling, executive communications, and speaker and media training.
She is also a member board of trustees at the University of St Francis and has served as the senior vice president of public affairs at the American Property Casualty Insurance Association where she designed internal and external communication strategies and led numerous public policy campaigns.
Twitter followers: 3,378
Insurers face scrutiny over #pandemic coverage. According to @iiiorg, insurers nationwide could be responsible for $125B to $380B per month if they are forced to cover pandemic-related #businessinterruption claims. https://t.co/1r82VIMkQ5 @salemnews #insurance #COVID19 pic.twitter.com/53VSxKc5ck

— Insurance Information Institute (@iiiorg) February 26, 2021
Larry Levitt is the executive vice president of the Kaiser Family Foundation (KFF), a non-profit organisation focused on delivering health policy analysis on Medicare, Medicaid, the Affordable Care Act, global health, and women's health.
Levitt has also served as the senior manager at The Lewin Group, a consultancy offering analytics and consulting services on healthcare and human services policies including Medicaid and Medicare.
Twitter followers: 25,914
The Biden administration has released significant new guidance on insurance coverage of COVID-19 tests.

Insurers have to cover tests with no patient cost-sharing even in the absence of symptoms or exposure. This includes tests prior to visiting family.https://t.co/evFjKpZDdn

— Larry Levitt (@larry_levitt) February 26, 2021
Alberto Garuccio is the head of innovation ecosystem and open insurance at Reale Mutua Assicurazioni, an insurance company specialising in insurance, risk management, banking, and supplementary pensions.
Garuccio is also the co-founder of Aroundrs, which specialises in smart and reusable container packaging technology to reduce food wastage.
Twitter followers: 7,046
Insurers must target new needs created by COVID-19https://t.co/AYk8JzcMQW#fintech #startup #innovation #finserv #insurtech@floriansemle @JeroenBartelse @globaliqx @HWillert @CraigMilroy @enricomolinari @LucepTeam @antgrasso @chidambara09 @iti_insurtech

— ALBERTO GARUCCIO (@albertogaruccio) March 16, 2021
Methodology
GlobalData's influencer identification framework identifies influencers based on relevance; size of network, connections and followers; engagement levels with their content and analysis and input from sector experts. Influencers are then evaluated on a series of specific topic-related keywords used over the period and weighted by engagement metrics.