The insurance industry continues to be a hotbed of innovation, with activity driven by growing demand for digitalisation and personalisation. With growing importance of technologies such as telematics, machine learning, big data, deep learning, and data science, insurers are overcoming demographic challenges, low penetration rates, cybercrimes and fraudulent claims. In the last three years alone, there have been over 11,000 patents filed and granted in the insurance industry, according to GlobalData's report on Artificial intelligence in Insurance: AI-assisted OCR.
However, not all innovations are equal and nor do they follow a constant upward trend. Instead, their evolution takes the form of an S-shaped curve that reflects their typical lifecycle from early emergence to accelerating adoption, before finally stabilising and reaching maturity.
Identifying where a particular innovation is on this journey, especially those that are in the emerging and accelerating stages, is essential for understanding their current level of adoption and the likely future trajectory and impact they will have.
90 innovations will shape the insurance industry
According to GlobalData's Technology Foresights, which plots the S-curve for the insurance industry using innovation intensity models built on over 65,000 patents, there are 90 innovation areas that will shape the future of the industry.
Within the emerging innovation stage, AI-assisted underwriting and treatment expense prediction are disruptive technologies that are in the early stages of application and should be tracked closely. Vehicle motion estimation, vehicle forensic analysis, and AV insurance risk analysis are some of the accelerating innovation areas, where adoption has been steadily increasing. Among maturing innovation areas is driving skill evaluation, which is now well established in the industry.
Innovation S-curve for artificial intelligence in the insurance industry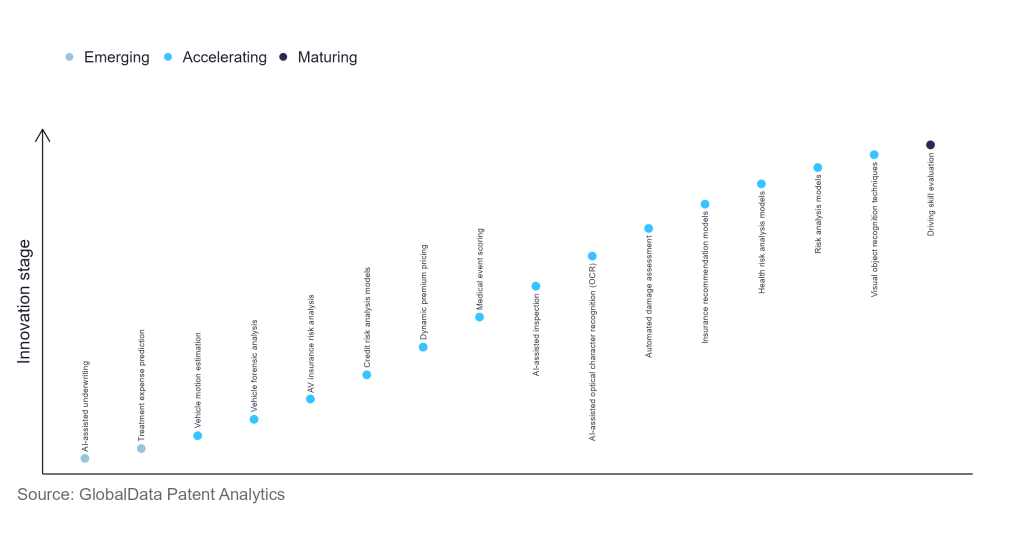 AI-assisted OCR is a key innovation area in artificial intelligence
The electronic conversion of scanned images into computer-readable or machine-encoded images is known as optical character recognition (OCR). OCR aids in the digitisation of printed texts, allowing for data extraction and processing of insurance claims. OCR helps insurers manage costs, increase profits, and increase customer retention by providing deep data insights, boosting workflow efficiency, and stopping duplicates and manual errors. OCR ensures document security and allows insurance companies to deal with fraudulent claims efficiently. OCR is also beneficial in claims involving multiple parties or complex legal issues.
GlobalData's analysis also uncovers the companies at the forefront of each innovation area and assesses the potential reach and impact of their patenting activity across different applications and geographies. According to GlobalData, there are 10+ companies, spanning technology vendors, established insurance companies, and up-and-coming start-ups engaged in the development and application of AI-assisted OCR.
Key players in AI-assisted OCR – a disruptive innovation in the insurance industry
'Application diversity' measures the number of different applications identified for each relevant patent and broadly splits companies into either 'niche' or 'diversified' innovators.
'Geographic reach' refers to the number of different countries each relevant patent is registered in and reflects the breadth of geographic application intended, ranging from 'global' to 'local'.
Patent volumes related to AI-assisted OCR
Source: GlobalData Patent Analytics
Ping An Insurance is one of the leading patent filers in identifying characters of a claim settlement bill. The company's method comprises identifying characters after a server receives a claim settlement bill image. Region segmentation is performed in the frame format using a frame line arrangement, and all segmented regions are analysed. During unified character identification, character identification is performed on all segments, removing the influence of frame lines in the bill. This improves the precision with which characters in the claim settlement bill are identified. Some other key patent filers in AI-assisted OCR for the insurance industry include State Farm Mutual Automobile Insurance, SoftBank Group, Clearlake Capital, and USAA.
In terms of application diversity, Clearlake Capital leads the pack, with KBC Group and Huawei Investment & Holding in the second and third positions, respectively. By means of geographic reach, Visa holds the top position, followed by KBC Group and Huawei Investment & Holding.
To further understand the key themes and technologies disrupting the insurance industry, access GlobalData's latest thematic research report on Insurance.