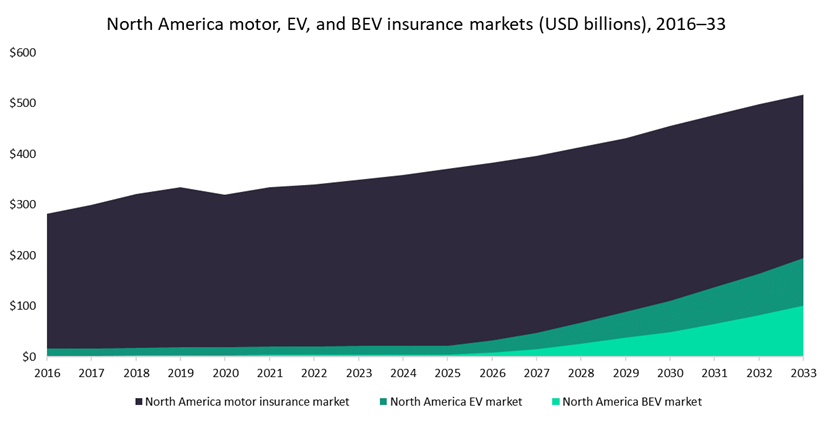 GlobalData estimates the battery electric vehicle (BEV) insurance market in North America will grow from $3.2 billion in 2020 to $100.6 billion by 2033. Given such rapid growth, Tesla could be well placed to become a significant player within the North American market in the long term.
GlobalData's Thematic Research: Electric Vehicles in Insurance report notes that as systemic transformation in the auto industry drives change in the motor insurance industry across the world, new players will find opportunities to disrupt the status quo of the market. Tesla has almost singlehandedly shown the world the true potential of BEVs in the past decade. It has become the market leader by some distance through its experience and expertise in designing, developing, and mass producing BEVs – giving it a considerable advantage over many competitors.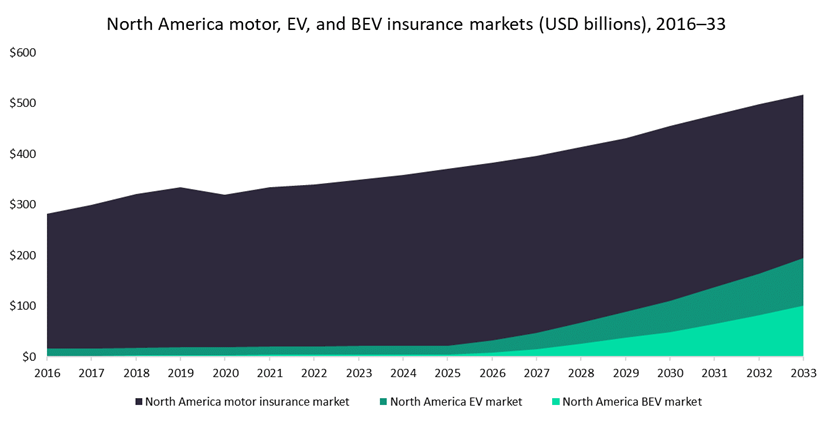 Tesla Insurance – which uses the vehicle's connected capabilities to price customers' premiums using real-time driving behavior and data – currently operates in eight US states, with filings in many others already committed. In April 2022, Tesla announced that it would start underwriting its own policies in three of those states (Colorado, Oregon, and Virginia), with plans to expand further in the future. As Tesla vehicles become more common on US roads, the opportunities for Tesla Insurance become greater. It is already the second-largest insurer of Teslas in Texas and hopes to offer its insurance product to 80% of Tesla customers in the US by the end of 2022.
According to Tesla, its insurance product can save good drivers 30–60% on premiums. Real-time driver feedback, accompanied with related insurance premiums, will show drivers the value of safer driving, encouraging better behavior in the future. Its data collection capabilities will also allow for faster claims payouts, and possibly same-day repairs for minor incidents, as the company will already know what is damaged and how to fix it. Over time, Tesla can identify aspects of the vehicle that are most frequently damaged (or cause the most incidents) and give feedback to developers, who can redesign the car or software to alleviate future problems. This reinforces the cycle of fewer incidents and fewer expensive claims leading to lower premiums. However, underwriting motor insurance requires large amounts of excess capital given the possibility of claims payouts, which Tesla may not necessarily have. The complexity of Tesla vehicles will also increase claims costs through high repair costs.
Of course, Tesla is not the only manufacturer with its own insurance product. General Motors (GM), Ford, and Toyota all offer their own insurance products (through an insurance partner). Given the popularity of pickup trucks in the US, if these legacy automakers can create a desirable electric pickup truck (which Ford and GM currently have in development, with Toyota still at the concept stage), then they could also become players within the industry. The motor insurance industry is highly competitive and incumbent insurers should not be so quick to disregard the threat of automakers in the industry.