Analysis
Biggest influencers in insurtech in Q2 2020: The top individuals to follow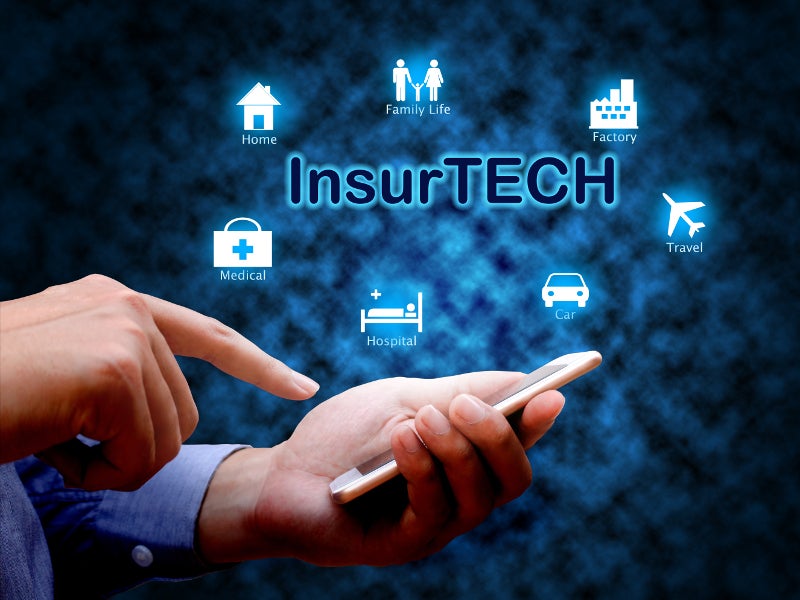 GlobalData research has found the top insurtech influencers based on their performance and engagement online. Using research from GlobalData's Influencer platform, Life Insurance International has named the most influential people in insurtech on Twitter during Q2 2020.
Biggest influencers in insurtech: The top ten in Q2 2020
Spiros Margaris is a venture capitalist and advisor. He is the founder and advisor of Margaris Ventures, and is currently a board member for sCanopy, a fintech company providing rent services. He is also on the advisory board of wefox Group, a Europe-based insurtech start-up.
Twitter followers: 102,139

GlobalData influencer score: 100
The #AI revolution: #Robots already helping #humans deliver better #care https://t.co/iSH0fedKNK #fintech #insurtech #healthcare #insurance #ArtificialIntelligence #MachineLearning #DeepLearning @therobotreport #robotics @medical_xpress @ipfconline1 @HaroldSinnott @ahier pic.twitter.com/96b6ozKGtf

— Spiros Margaris (@SpirosMargaris) June 10, 2020
Ronald van Loon is a prominent expert in the areas such as artificial intelligence (AI), big data, and IoT. He is currently the principal analyst and CEO of the Intelligent World, an analyst and influencer network that enables domain experts and businesses to reach new audiences. He has also written various articles on AI, machine learning (ML) and data.
Twitter followers: 231,118
GlobalData influencer score: 89
The 30 #Technologies Of The Next Decade
by @SeanMoffitt @Wikibrands#IoT #Robots #HealthTech #Blockchain #Fintech #Insurtech #BigData #MachineLearning #ArtificialIntelligence #ML

Cc: @spirosmargaris @patrickgunz_ch @ronald_vanloon pic.twitter.com/GIPfBXbLTB

— Ronald van Loon (@Ronald_vanLoon) May 19, 2020
Marc R Gagné is a privacy advocate and technologist who offers policy advice to clients and the governments alike. He is also a contributing author to the Irish Tech News, and a data protection officer at Interfima, a financial services company. He integrates innovation into areas such as data protection, privacy, and information management fields.
Twitter followers: 74,094
GlobalData influencer score: 84
Insurers are facing disruption and need to evolve quickly — The Rise of InsurTech Link >> https://t.co/egEw6SEFyb @Accenture via @antgrasso @antgrasso_IT #fintech #finserv #Insurtech #DigitalStrategy pic.twitter.com/DDks1CyDpD

— All You Can Learn Digital (@AYCLearnDigital) June 15, 2020
Kirk Borne is a research and consulting professional, and an astrophysics professor. He currently serves as a principal data scientist and executive advisor at Booz Allen Hamilton, a US-based technology and consulting company. He also serves as advisor for Syntasa, a digital behavioural data and AI platform that allows businesses to develop and customise their AI/ML models.
Twitter followers: 267,149
GlobalData influencer score: 74
How #EmergingTechnologies Are Impacting Industries: https://t.co/jSFqwuFRK3
———————#BigData #DataScience #AI #MachineLearning #Automation #IoT #IIoT #IoTPL #Blockchain #DigitalTransformation #fintech #insurtech #HealthTech #Retail #EdTech #Industry40 #4IR #AR #VR pic.twitter.com/A6O9uHe7CG

— Kirk Borne (@KirkDBorne) May 20, 2020
Tripp Braden is a market strategist and a B2B sales expert. He is also a content strategist and contributor for the Market Leadership Journal on technologies and executive development. He creates lead generation programmes to help B2B SaaS leaders accelerate their sales and profit margins.
Twitter followers: 27,174
GlobalData influencer score: 69
Can #AI Solve Health Insurance Fraud? https://t.co/REy3AOmtTA #fintech #Insurtech #claims #underwriting@LouisSerge@ipfconline1@AkwyZ@mvollmer1@Fisher85M@Paula_Piccard@HeinzVHoenen@Ym78200@Xbond49@sebbourguignon @Ronald_vanLoon @EvanKirstel @InsurTechInvest pic.twitter.com/qvEi6zNomH

— Mike de Waal (@globaliqx) June 26, 2020
Andreas Staub is a fintech expert specialising in areas such as corporate strategies, brand building, smart data and pricing strategies. His current role is of head of business development and digital transformation at Raiffeisen Switzerland, a retail bank serving more than a third of the country's population.
Twitter followers: 58,892
GlobalData influencer score: 68
We are ready for #MachineLearning Explainability?#AI #ArtificialIntelligence #GDPR #DataScience #privacy #fintech #insurtech @jblefevre60 @pierrepinna @AntonioSelas @andy_lucerne @mvollmer1 @HaroldSinnott @Paula_Piccard @Fabriziobustama @TopCyberNews https://t.co/MxI08oUKJE pic.twitter.com/FaX6Jw6O81

— Andreas Staub (@andi_staub) June 30, 2020
Robin Kiera is a top technologist and insurtech influencer. He specialises in areas such as public relations, management, business, brand, and marketing consulting. He is currently associated with Digitalscouting, a marketing and consulting firm. He is also the ambassador for the Open Voice Network, an information and technology and services company.
Twitter followers: 31,569
GlobalData influencer score: 64
Insurance brokers: Now's the time to take advantage of digital training https://t.co/dfYk4TUMYA@daschreiber @tattia @FGraillot @phoebe @CrowdCween #Innovation #Insurance #Insurtech #Digitisation #StayHome pic.twitter.com/J26an0EEUO

— 🔹Dr. Robin Kiera🔹 (@stratorob) April 28, 2020
Antonio Grasso is a digital transformation advisor with more than 37 years of experience in information technology. He is the founder and CEO of Digital Business Innovation Srl, a consultancy that empowers small and medium enterprises to undertake digital transformation. Grasso has been associated with top organisations such as Siemens, Intel, Atos, and IBM, among others.
Twitter followers: 158,191
GlobalData influencer score: 63
The Property and Casualty (P&C) #insurance industry deals with a large amount of claims data for multiple lines of business. What Insurers need to know to get started on the Blockchain journey. Source >> https://t.co/NWBLQ9tS4I @EverestGroup via @antgrasso #blockchain #FinServ pic.twitter.com/slWmLJWqim

— Antonio Grasso (@antgrasso) May 23, 2020
Dr Sally Eaves is an AI and fintech consultant specialising in emerging technologies such as blockchain and machine learning. She is an official member of the Forbes Technology Council, a civil and social organisation, and a philanthropy advisor for aXpire, a computer software company. She also serves as a strategic advisor at Effect.AI, an information technology and services company.
Twitter followers: 110,089
GlobalData influencer score: 60
[paper]

The Economic Impact of #ArtificialIntelligence in #HealthCare#AI #Insurtech #fintech @ipfconline1 @jblefevre60 @terence_mills @Damien_CABADI @Paula_Piccard @sallyeaves @SpirosMargaris @SabineVdL @HaroldSinnott @floriansemle @sbmeunier @psb_dchttps://t.co/Z0YsgXINBv pic.twitter.com/aZSbwpWDyA

— Andreas Staub (@andi_staub) June 14, 2020
10. Theodora Lau (@psb_dc)
Theodora Lau is a fintech expert and founder of Unconventional Ventures, a financial services company. She regularly mentors and advises companies in the healthcare and financial services industry.
Lau co-hosts a podcast called One Vision that focuses on fintech and innovation. She also contributes to a weekly blog on fintech, emerging technologies, and innovation.
Twitter followers: 47,838
GlobalData influencer score: 60
"Another challenge for banks and insurance companies aims at bridging the gap between legacy and digital operations. Culturally rewriting this friction is a necessary prerequisite for creating value through AI."#AI #FinTech #FinServ #Culture
cc @Clara_Durodie https://t.co/QNe21gWWDA

— Theo – 劉䂀曼 (@psb_dc) June 22, 2020