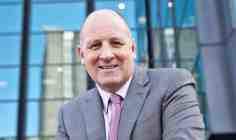 David Healy, general manager of health insurer Aetna International in Europe, tells Ronan McCaughey about the launch of its new service model and product offering, the provider's business strategy for 2016, and technology's role in its business processes.
Life Insurance International (LII): How has Aetna International progressed in 2015 and what is the business strategy for 2016?
David Healy (DH): This year was very much a foundation one for us. The acquisition of InterGlobal in 2014 was key. The deal expanded Aetna's footprint in a number of fast growing geographies within Asia, the Middle East and Africa and enhanced our international penetration with individual, small and mid-sized business customers.
Previously, our operating model involved quite a lot of outsourcing. This meant many of our core processes, such as claims administration, were handled by external parties on our behalf.
That model was not as customer-centric as we would like, so we have used the InterGlobal acquisition as a catalyst to effectively create a more member-centric customer journey by bringing the majority of our services in house. Customers now deal with Aetna staff directly for anything from claims reimbursement to evacuation.
Building that member-centric journey culminates now with our move into new offices in Farnborough in December this year bringing our UK-based people together under one roof.
During 2015, we also examined our product suite and that has led to the launch of two new products: the Aetna Pioneer product for families and individuals, and the Aetna Summit for larger groups.
All in all, the strategy for next year is about taking our new service model and product offering to reinforce the quality of the customer experience and broaden our distribution reach within the UK and Europe-wide.
LII: Will that involve expanding Aetna International's business in Europe?
DH: We deal with the big employee benefit consulting firms in London so we are looking to go broad and deep and get a much larger share of wallet because we think our offering now is better than anyone else out there in the market.
In terms of Europe, we have not previously looked at mainland Europe in a very significant way, and I think there are lots of opportunities there for both our private medical insurance and population health businesses.
We are part of the Swiss Life network, a type of marketing network with around 60 local insurers and business partners covering 70 countries and territories, and I see an opportunity to develop that partnership to create more opportunities.
LII: How is Aetna International using technology to improve its business processes?
DH: Technology is a big part of what we do. We have spent a lot of time and energy developing our website to cater for all members across the globe. We have also spent a lot of time developing our mobile applications that enable people to find medical facilities wherever they are.
At the back end, when our clients have had their medical treatment, they can submit their claim forms to us via the mobile application by taking a photo of it. That creates efficiencies because there are no errors and it also avoids fraud and over utilisation. One of the big challenges for the insurance industry is around over utilisation of any insurance plan, particularly on the medical side.
The final tool we have spent a lot of time investing in is an iTriage facility. This is a mobile application that has a lot of information on medical conditions.
LII: What is Aetna International doing to embrace innovation and stay competitive?
DH: The challenge for us is sometimes we compete against companies that have a large domestic presence. A lot of insurance companies will have an international offering of some sort, but I would suggest what they can offer overseas employees is very limited, and we know that from looking at the competition out there.
Where Aetna differentiates itself is we have compliant solutions on a completely global basis and over 1m providers in the US where Aetna has discounts, so any of our members going into the US automatically qualify for that US network discount. We also have around 165,000 medical facilities in our network outside of the US, which is one of the larger networks of any international insurer.
A lot of what Aetna does is around wellness and enabling people to live healthier lives. One of the advantages of being part of such a large group is the amount of data and analytics we have in understanding chronic clinical conditions and preventative healthcare, and how that can be used to manage the healthcare of the population.
That is why we have a parallel strategy of population health which involves working with government entities and bodies around the world to help them establish and develop their health systems.
LII: What is your outlook for the health insurance industry in 2016?
DH: We see positives [from a business perspective] emerging in terms of economic trends. There are rising healthcare costs and on a global basis it is probably the biggest issue that most governments are facing.
The need to be insured against those costs is a key driver for us. The issue is how we collectively work together with governments, providers and hospitals and our members to ensure better health outcomes and try to control that cost base. I think that is the core issue going into 2016 and beyond.